Ἁγία Σοφία - Hagia Sophia
Turkish government is planning on changing CHANGED Hagia Sophia in Istanbul into a Mosque.
Hagia Sofia was build 1500 years ago, and been an Orthodox church for at least 900 of those years!
Below (the logo) is a link of the letter from the Greek Orthodox Archdiocese of America on how they feel about it.

Please take time to read it and pray for God to shine his light on all the leaders on both sides of this monumental decision.

We pray it never happens, it would be a major blow to Orthodoxy as well as ALL Christians all around the world!

MOST OF ALL, PASS THE WORD, SHARE, SO EVERYONE IS INFORMED, AND SPEAK OUT IF POSSIBLE!

Thank you and God Bless you and keep you safe!
(click on the logo below to read the letter)

Here's more from the Greek Orthodox Metropolis of San Francisco!
Here you'll also find the interactive pdf and much more info.
PLEASE take time, go to the link, learn more of this major blow to all Christians all over the world!
And remember, On Friday, July 24, 2020 at 5:00 p.m. PDT, His Eminence Metropolitan Gerasimos is asking all our parishes to pray the service of the Akathist to the Theotokos. The Mother of God is our fortress and we implore her swift aid and help during this time of great need. At the conclusion of the service, please all join in singing the Kontakion 'Τῇ ὑπερμάχῳ/To You Champion General, a hymn that was composed and first chanted as thanksgiving for the intercessions of the Theotokos in protecting Constantinople. There is no more relevant time than now to beseech her intercessions.
We are planning a streaming of the service, and if not, I'm sure The Metropolis of SF will be.
PLEASE PRAY for Hagia Sophia! There is a petition too thru this link, PLEASE, SIGN IT, PLEASE for the sake of Christianity!
Also, available, a letter to send to your representative.
Joint Statement from Metropolitan Gerasimos and Archbishop Cordileone on Hagia Sophia
You'll need Adobe Acrobat Reader to read any documents on this site
News from the web in regards to Hagia Sophia in Istanbul. Click on photo to view the news.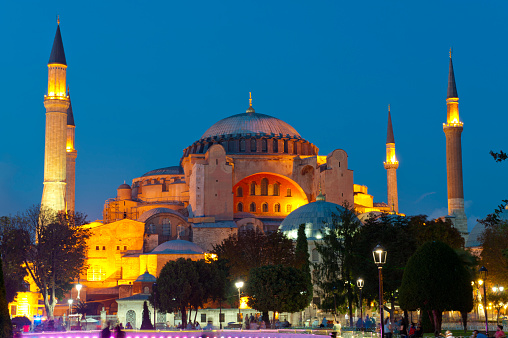 Write to your representative, click below to locate yours.
Then, here's a sample letter you can send to him/her, PLEASE personalize it.
If you are unable to open word document, below is the text, just copy/paste all the text and insert your info and your representative's ino.
Date ___________
Dear Senator/Representative __________________,
As a Greek Orthodox Christian and your constituent, I am writing to ask that you raise your voice to protest the recent actions of the Republic of Turkey to convert the historic Hagia Sophia into a mosque. This decree by President Recep Tayyip Erdogan annulled a 1934 presidential decree that made it a museum, and thus accessible to people of all cultures and faiths from around the world.
I urge you to speak out in protest on this issue, bringing it to the attention of your fellow elected officials both within the State of _____ and to our elected officials in Washington, DC. This decision by President Erdogan is not one from which we are isolated because it is happening across the globe. Rather, it is a decision that deeply affects the relationship between the United States and Turkey, and undermines and deliberately ignores the importance of this historic site.
Besides its significance for Christians, Hagia Sophia was and still is an architectural marvel, and a place that has opened her doors for millions of people throughout the world over the centuries who have witnessed her majesty and beauty. By converting the revered Hagia Sophia to a mosque, this is also a blatant disregard for UNESCO which designated this as a World Heritage Site in 1984. Hagia Sophia belongs to everyone, and should not become a pawn as part of political maneuvering for the Republic of Turkey.
The United States is capable of intervening in this matter of global significance, and as a member of the Greek Orthodox Church in America, I raise my voice in firm protest to this decision of the Turkish government and I hope that I can count on your support and your voice to bring an end to this travesty.
Sincerely,
Name
Address
City/ST/ZIP
Email
Phone